This is the story of a little desk. It is a desk that actually belonged to my younger brother when we were kids, so it is kind of old. I would not classify this desk as vintage by any means, just old. I snatched it many years ago when we were visiting my parents and thought it would make a good study desk for my son. My son's room is red and blue, so I painted the little desk
Benjamin Moore
Heritage Red. This is a wonderful red for juvenile projects, by the way.
Here is the patient in need of rehab.
Desk before photo
My son used this desk for many years, but he is in high school now and it is just too small with his laptop computer plus text books, papers etc. So, we found him another larger desk in a local consignment shop. It is need of some rehab too, so stay tuned for that. This little desk now has a home in the guest room/office. I recently bought a sewing machine and plan to use the desk as my sewing station. The red was just not working in this minty green room with hints of blue here and there. I love blue and green together and thought that bringing more blue into this space would look really nice. We have a lot of leftover blue paint from a bathroom project and so I thought I would give that color a try. It turned out to be perfect with the green walls and blended perfectly with the blues in the artwork on the room. Not having to spend money on more paint was a bonus. The color is
Sherwin Williams
Notable Hue (6521)..
I started off by removing the hardware and then gave it a good coat of Zinsser Bull's Eye 123 Primer which I picked up
here.
After the primer was dry, I put on two coats of the Notable Hue and finished it off with two coats of sealer. I used Minwax Polycrylic and I think I purchased it
here.
And now the big reveal!
Desk after photo



Ta Da! I didn't do any distressing on it, so it is pretty straight forward and simple. I think it turned out pretty cute and will serve my new sewing machine well. I like the hardware and think that the pulls and knobs are perfect for it. I love how the nickel finish adds just a touch of sparkle. The pulls are Martha Stewart Living Bedford Canopy Cup pulls and the knob is the Goblet knob from the same line. I purchased them at Home Depot. .



Adding this little blue desk has inspired me to do some more work in this bedroom. It has always been a bit neglected and sort of a place for leftover furniture. I feel like it now has a little more direction and I can run with it. Perhaps I will make some pillows for the bed with my new sewing machine (once I get it out of the box!).
Hope you enjoyed this little rehab story. I have more patients waiting!
Until next time.....
Featured on:
I am linking up to: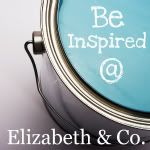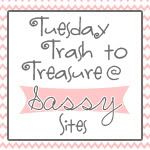 Please forgive the button arrangement. I am new at this........
P.S. I did not receive any products or compensation to write this post.